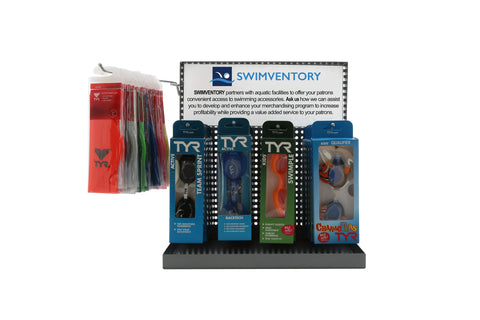 Small Starter Kit
---
Please login to see price
---
 Starter kits are only available to new customers!
The SWIMVENTORY small starter kit is a great way to test your market and learn what to provide for the needs of your patrons.  The kit includes a counter-top display rack, pegboard rack hooks and a variety of our most popular items:
Counter-Top Display Rack - 1 - Approx. W-14 ½, H- 15 ½, D- 13 ½ (measurements not including bent hook)
Pegboard Rack Hooks – 4 (Straight)
Pegboard rack Hook – 1 (Bent)
TYR Racetech Goggles – 6
TYR Team Sprint Goggles – 6
TYR Swimple Goggles – 12 (Regular and Tie-Dye)
Latex Swim Caps – 26
As part of this special offer from SWIMVENTORY, we are selling the starter kits at our lowest quantity discount prices.
Wholesale cost - $ 249.00
Retail Value - $502.44